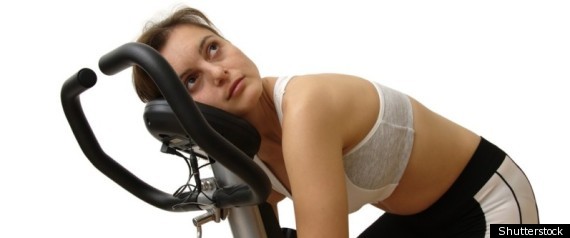 I decided to join a gym. Again. For like, the fifth time.
I have always been a creature of habit. Bad habits, that is. Exercise? Nah- I'll do it tomorrow.  I have been able to lose 75 pounds in the past year and a half but recently, after going off a medication, I began gaining again. In a week after stopping the medication, I gained 7 pounds.
I am now back up 12 pounds. FML. (NOTE: If you do not know what "FML" stands for, it means F**k My life.)
This recent gain has terrified me to the point of joining a gym. I am laughing as I type this because I have joined before but always stopped going within like, a week. Talk about a waste of money! But last Thursday, I joined- today is Tuesday and I got my ass up out of bed at 5:10am and got to the gym around 5:45. I knew that if I did not go to the gym before work, I certainly would not make it after work. Also, I could shower and get ready after a workout and go straight to work.
I started the day off this morning by hauling my purse, my gym bag, a plastic bag with today's outfit and my lunch bag. Oh, and a bottle of water. As I juggled all the bags, my keys and my water bottle my cat Isis was circling my legs mewing at me as she does every morning. I teetered out the door precariously. I got to the gym and the parking lot was packed. I sighed with slight irritation. Shit, people. It's 5:45 in the morning. Why is there a gym full of people at this ungodly hour? As my social anxiety and body image issues increased, I again hauled my shit inside. The cute desk guy checked me in and I entered the locker room. I stashed my things in a locker and went upstairs to the "women only" side of the facility. I passed the group classroom and an upbeat tempo blared out from the speakers. A large group of small-framed women with pretty hair in ponytails were furiously pedaling and most looked at me as I passed by, their faces sweaty and angsty. I made a note to skip spin class.
I hopped onto a treadmill right away in the workout room, stuck in my painful earbuds and began my workout playlist.*I set the treadmill for 30 minutes and off I went.
I don't know how many of you have been on a treadmill, much less a treadmill in a gym, much less a treadmill in a female-only gym.  You have 30 minutes or longer to daydream, watch mounted TVs with captions set to world news stations or if you can read and walk at the same time, scour a magazine. Or, you can do what I do: listen to music and check out the other women.
Men, if you didn't already know, women check out other women. Unless you are a lesbian, the point of checking out other women is not for the purpose of attraction but to compare. Women are bitches. Women are devious. Give us 5 minutes and we can rip your soul out through your ass if we so choose. I had 30 minutes on that treadmill to compare, feel unattractive, feel attractive and be a bitch.
I looked around the room as I strode to a 2.9mph walk on the "gluteal" preset. I was in the back row of treadmills so I had a view of women in front of me. To my left up front was a skinny blonde who had a nice ass but a weird face, stomping her way "up" a stair climber. She was leaning forward, huffing and puffing, face red and dripping with sweat as she begrudgingly took each step to nowhere. In the front row was a short-haired woman in her fifties effortlessly running on the treadmill. I could see the line of her underwear through her tight black spandex shorts.  To her right was an overweight woman in a bright orange workout jacket who tediously worked the elliptical machine. Her fat rolls protruded from the construction-worker orange shirt and I thought to myself, "Good for her! She is in here making a conscious effort about her weight." She made me feel attractive.
Stair climber girl decided to hop on the treadmill next to mine, to my right. Via my peripherals, I watched her stride to a 4.9mph pace. I began to feel unattractive in a an out-of-shape kind of way. As this was my first day in the gym amidst a fibromyalgia flare-up, I knew should take it easy, even though I wanted to go balls out. Beads of sweat were starting to form on my forehead and my back was starting to ache and I inwardly cursed my degenerative discs. I was not going to give up. I slowed my pace and upped the incline, leaning forward to relieve pressure on my lower back. It worked. I kept going.
Stair Climber was now running like a gazelle, pace up to 6.8mph. As my favorite Bush song came on, "Machinehead," I knew I had to run. I amped the speed up to 4.9mph and steadily jogged along to the fast-paced rock music. The singer, Gavin Rossdale sorta acted as my personal trainer with the lyrics, "breathe in, breathe out, breathe in, breathe out." I felt amazing! In the words of the famous line from Forrest Gump (and please do read this with Forrest's accent), "I was RUNNING!"
I glanced at Stair Climber out of my periphs. She was still bounding and leaping in perfect form as I clumsily stomped/ran next to her. Her bright pink tank top firmly held her small breasts in place and the muscles in her calves glistened with sweat. I looked down to see my very large breasts heaving with each movement. I suddenly felt self-conscious. I felt like a chick from Baywatch, without the perfect body, hair and face, running down the beach in slow motion…but in a bad way. I pretty much felt like this wee duckling:
 I cursed my breasts and hoped that no one was watching me, secretly judging me, which is hypocritical, I know. I hoped that men weren't gathered outside the exercise room gawking at us all. Stair Climber slowed her pace down to a walk and I decided that I too, could slow down.  But then Prodigy came on my playlist and walking to the beat seemed unnatural. After a couple minutes, I decided to kick it up again. A new girl had taken the treadmill to the left of me. As I began running again, sweat now dripping and running down the back of my neck I felt the need to check this brunette out. As she walked on her treadmill while I ran (yes, that is a stuck-up remark) I glanced at her and flashed her a smile.
<<WHACK!!>>
In my effort to compare myself to the brunette, I accidentally tugged my earbud line too hard with my left arm and my phone dropped onto the belt and flew onto the hard floor with a resounding crash, the faceplate coming off the phone and scattering. The brunette gave me a look of horror and I stopped the machine. I jumped off a bit too fast and had some "sea legs" which caused me to sway dangerously like a drunk to my right, my left shoe squealing loudly as it rubbed on the floor. I bent down and picked up my phone and looked about quickly to see who witnessed this display of shame. Amazingly, no one was looking at me- only at themselves in mirrors or window reflections. I pridefully got back on that sonofabitch treadmill for another 15 minutes. At 6:15, my cardio was done.
I desperately wanted to pump some iron, as they say on the gym street. I picked out the seated leg press. I had to adjust the seat to the farthest back position as I was obviously the only behemoth that used this press. I had a glorious view of the entire workout floor and sadly, a mirror to my right where I sadly glanced at myself and saw a tomato-red face, stringy sweaty hair and a fat roll on my tummy. I quickly looked away, counseling myself by using positive reinforcement. As I did 3 sets of 10 reps I checked out the weight-lifting women in front of me, all admiring their perfect physiques in the mirror. Ok, ok. That was snarky. I know that they were not admiring themselves but checking their form. I watched one woman do crunches on an exercise ball and carefully looked at her stomach, checking for any sign of imperfection. I did not see any until she stood up and I saw a bit of a muffin top. I rejoiced. Another girl wearing bright pink headphones began lifting some barbells. I watched her, studied her. She seemed confident in her workout. She was also wearing lifting gloves, which told me that she knew what she was doing. Another woman in the corner was doing chest flys, wearing a black sports bra and bright spandex shorts. She was tan. She was thin. She had rippling feminine muscles. She wore a wedding ring and for further berating of myself, I began the age-old mental torment of wondering why I was still single. I then felt a pinch of sadness in my heart and brutally thought, "It's because you don't look like her, fatass!" I quickly dismissed that thought and gave myself a positive affirmation of, "Look where you are! You are at the gym! This is the first step to having a nicer body!"
I had run out of time and in my disappointment at not being able to do more strength training, I went back to the locker room and prepared to get ready for work- which meant showering and being naked in front of other women.  I figured out right away that my method of transporting gym items and work clothes was a hassle. I had to constantly switch out bags from my locker due to my paranoia about theft. There was only one other woman in the locker room at that time, an elderly lady, perfectly content to be naked. I averted my gaze because I really did not wish to see that.
Remember when I said that women are bitches? The locker room is a whole other ballgame…
*Tawnya's Current Workout Playlist:
99 Problems-  Jay-Z Beautiful People- Marilyn Manson Chop Suey!- System of a Down Connected- Stereo MCs Brutal- Excision Head Like a Hole- Nine Inch Nails Immigrant Song- Karen O. w/Trent Reznor Jesus Walks- Kanye West Know Your Enemy- Rage Against the Machine Machinehead- Bush Never Been Any Reason- Head East One Trick Pony- Deadmau5 Panic Switch- Silversun Pickups Phunkshock- Matroda Push It- TLC Smack My Bitch Up- The Prodigy (remix) Spitfire- The Prodigy Working Day & Night- Michael Jackson